Call Our GST Panel Experts +91 72999 72500. In this article, we would be talking about how to reset the password in GST Portal in India. As we know that the Indian government has implemented new tax rules and they are also considering making GST more global so people in other countries are still looking for good businesses in India that have a local base. And of course the high commissions, incentives, and other special offers that companies in India offer attract people even more. If you are planning on doing business in India or starting a business there, then I believe using a local platform for registration and setting up your company is more practical. This article would tell you how to reset the password in GST Portal in India after you have made your changes.
For every business successfully registered in GST Portal, you will receive the login and password to their registered mobile number and email address. There are instances we might enter the wrong password three consecutive times (OR) voluntarily changing the password (OR) the GST portal urge to reset the password after a specific time period.

Follow the below-mentioned steps to Reset Password in GST:
Step 1: Go to https://services.gst.gov.in/services/login.This is the main page of the GST Department portal, where you need to click on the Login menu will direct you to the next step.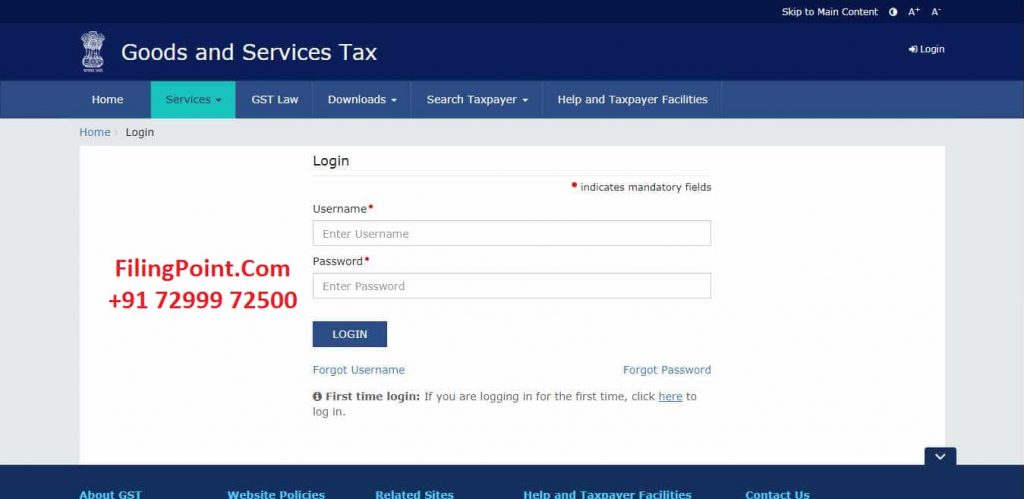 Step 2: The next step is to click the "Forgot Password" option is available at the bottom of this page as shown below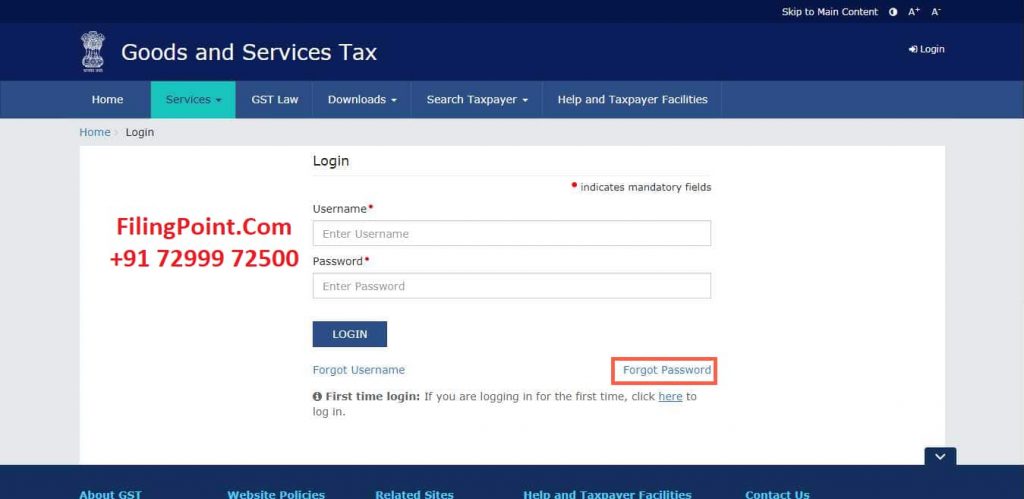 Step 3: Enter the "Username" which was given to you at the time of registration and this will prompt you to go to the next step as shown below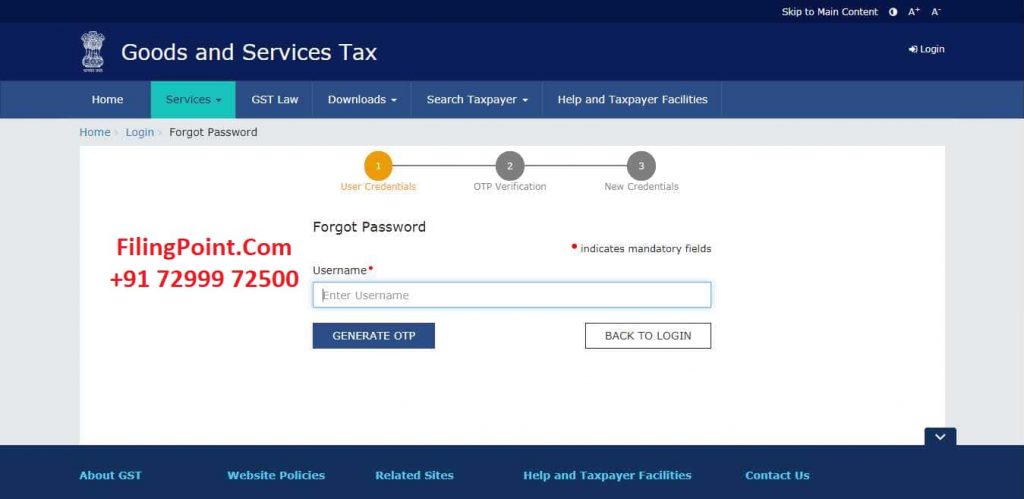 Step 4: In this step, you have to enter "captcha" which is automatically populating after entering "Username". Then click the "Generate OTP" button.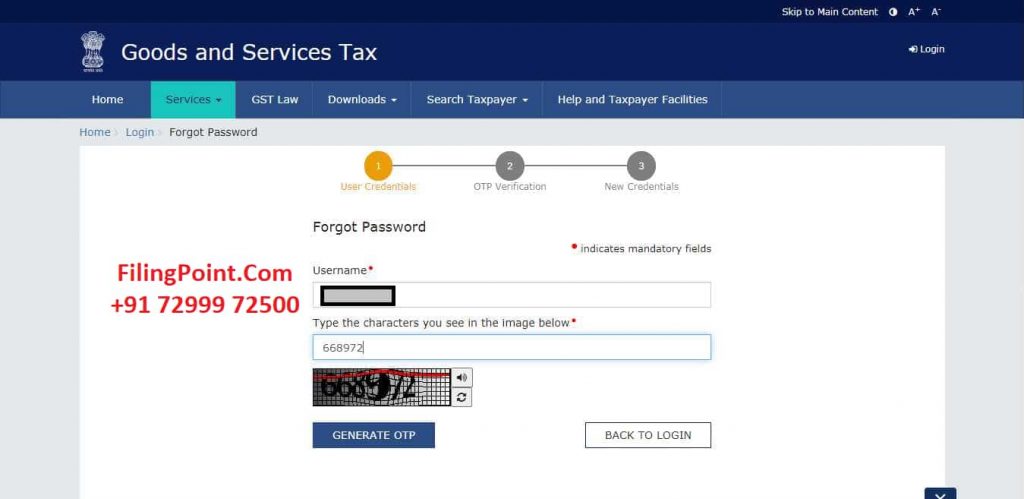 Step 5: On this page, you can see the "OTP Verification" screen and need to enter the OTP sent to your registered mobile number and email address.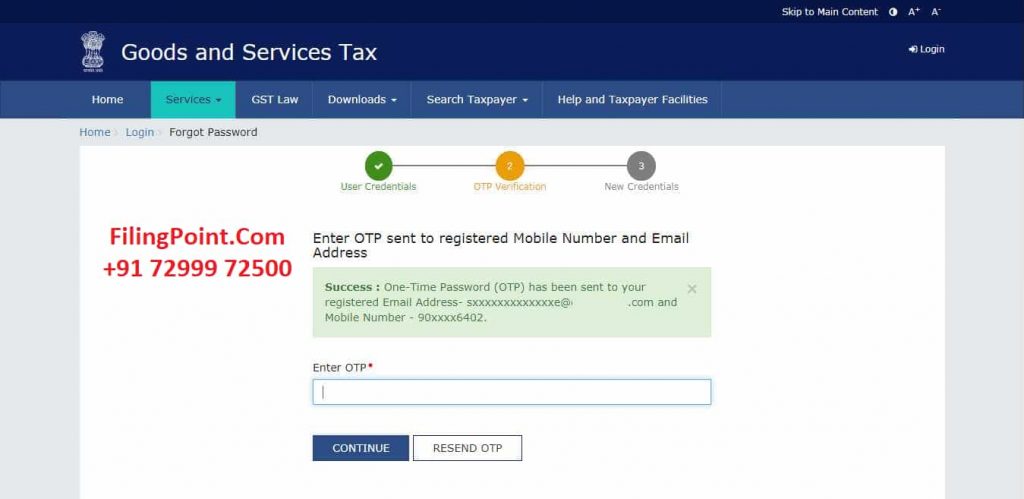 Step 6: Enter the OTP in the "Enter OTP" space, where you have already received your registered mobile number and registered mail address.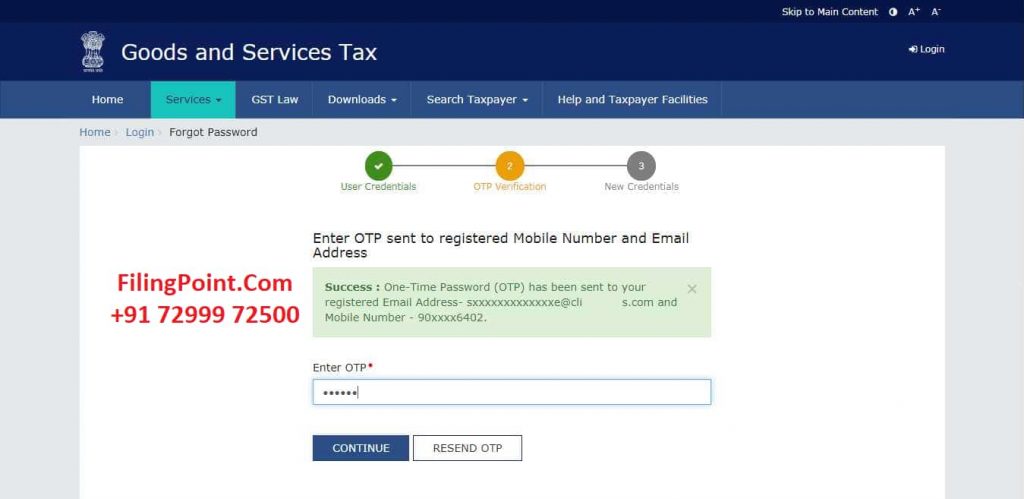 Step 7: Now you can see the password reset page. You enter a new password in "New Password" and "Re-confirm Password" as you wish. The password should be of 8 to 15 characters which should comprise at least one number, one special character, one upper case, and one lower case letter.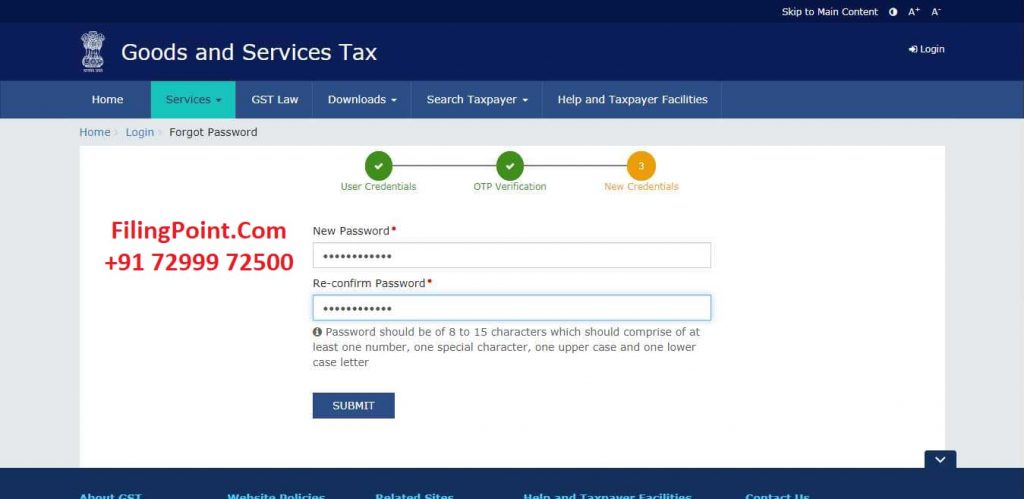 Step 8: In this last step you can see" Your password has been successfully reset" in the GST portal. Now you can log in using the "New password". You can read our article for Online GST Filing in India.
Guidance to Reset GST Portal Password in India
Call Our GST Panel Experts +91 72999 72500
How to reset password in GST Portal in India? The portal services of the tax department have recently come under the scanner after an incident of data theft in April of 2020. The incident was made even more unfortunate by the fact that the perpetrator (an IT professional) had managed to access the database of the government-run portal using special hacking software, which enabled him to reset the password and gain entry to the internal user information (passwords and encryption). The Central Government was quick to put into place measures to prevent such incidents in the future, but how do you reset password in GST Portal in India? Use this simple guide to reset secure password for this GST Portal.